Author Visit: Cath Crowley
Posted by Oliver Jach on 23 August 2018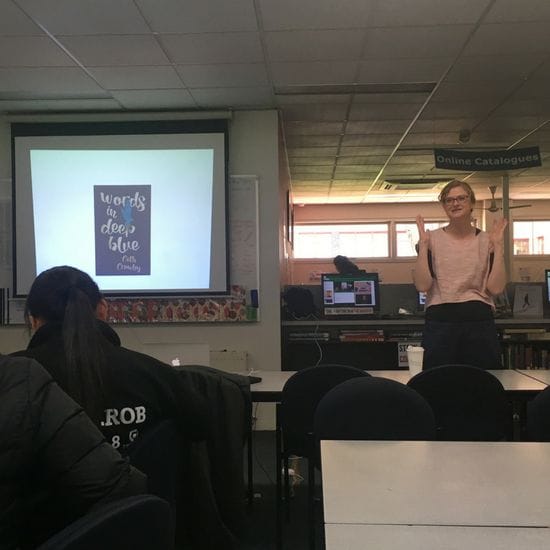 Young adult author Cath Crowley visited the LRC yesterday. Cath's novel Words in Deep Blue was a smash hit last year, winning the Gold Inky, The Indie Award and the PM prize. Her latest novel Take Three Girls has been awarded the coveted CBCA award.
In her speech, Cath talked about how much work went into these books. Both of these novels took her over 5 years to complete, and there were plenty of moments where she couldn't see how she would finish them. Words In Deep Blue was a particular struggle for her. After promising her publishers she would complete the manuscript within one year she lied about the progress she was making until a year went by and she had to admit that she had only pulled together a few thousand words.
Worried that she was struggling with her novel, Cath's friends decided to try and pull her out of her writing rut. One day Cath looked in her letterbox to find an anonymous letter with snippets of Pablo Neruda poems contained within it. The letter told her to make a poem out of the snippets and post it online within a day. A second anonymous letter arrived, this time instructing her to get out of the house and go for a coffee. The third letter that arrived sent her on a treasure hunt through the state library. She already knew she wanted to write about a second-hand bookshop and from these letters she got the idea of a 'Letter Library' located within a bookshop where customers could write little notes to each other in the margins of books. With this idea she was able to complete Words in Deep Blue, the prize winning novel we know today.

It was great to have Cath in the LRC and we are grateful to the staff and students who turned out during lunchtime to see her. The next author to visit the LRC will be David Astle on Friday the 19th of October.