Author Visit: David Astle
Posted on 22 October 2018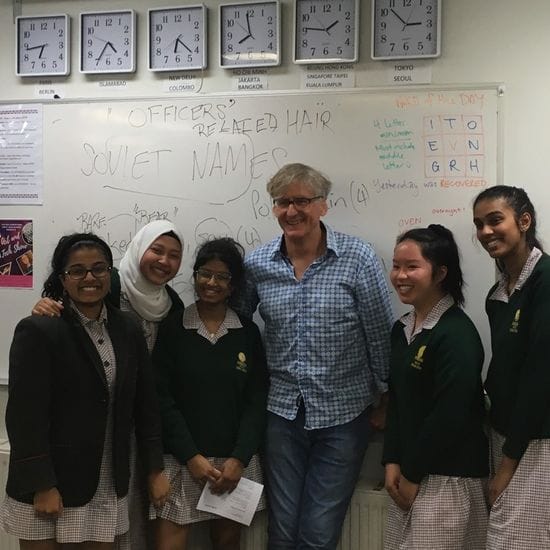 On Friday of week two, the LRC hosted David Astle for a lunchtime Cryptic Crossword Crash Course. David is well-known to some students who attended, as they have been watching 'Letters and Numbers' on SBS for several years, where he is a co-host. He has written numerous books about all things wordplay, alongside his weekly contributions to the puzzle page of The Age and Sydney Morning Herald. David describes cryptic crosswords as a 'playground for the brain' and enjoys the way both creative and analytical thinking are involved in setting, as well as solving a grid.
With only a handful of students having tried this style of crossword before, David took us through the basic 'signposts' that help a solver figure out cryptic clues, and inspired many delighted gasps of understanding as he revealed each clever solution throughout the presentation. Students were quick to grasp these concepts and enjoyed the many examples of anagrams, homophones and synonymous words that David seemed able to rattle off without a pause for thought.
An entertaining speaker with a knack for spreading his love of language, we suspect that via this well-attended event, David will have infected some MacRobbians with the word-nerd BUG! (In-joke, you had to be there)
For anyone who missed out on this fun and demystifying peek into the world of cryptic crosswords, we have copies of the handy cheat sheet, which David brought along to share with us. Come by the LRC any time to get yours!