Career News 27th November
Posted by Irene Serpless/Susy Puszka on 27 November 2018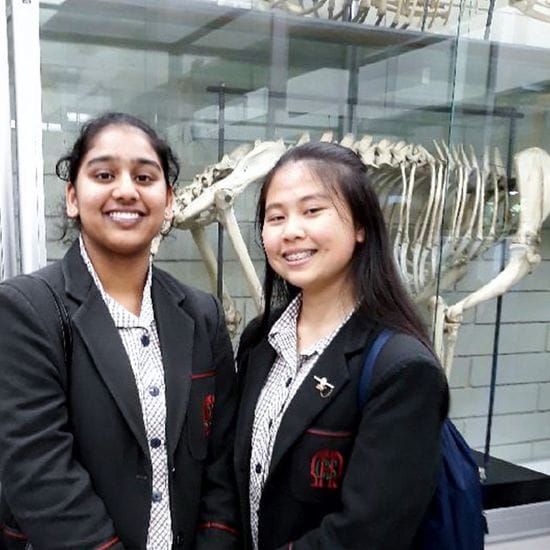 On Wednesday November 14 ten Year 10 students attended the Girls in Science Forum at The University of Melbourne sponsored by L'oreal. Speakers included the Vice Chancellor of the University Professor Duncan Maskell and five 2018 L'Oreal-UNESCO for Women in Science Fellows. They were Airlie Chapman, bridging the gap between humans and robots, Kirsty Short, discovering the link between influenza and obesity, Katrina Miljkovic, unlocking the secrets of the universe, Asha Bowen ending skin disease for Australia's indigenous children and Stefanie Zollman, enhancing our perception of the world through augmented reality. The speakers were both inspirational and entertaining and illustrated the many different fields of science where women are making an impact.
Following lunch, students participated in two workshops. The first a treasure hunt through the Tiegs Museum, Zoology Museum and the second an augmented reality/virtual reality workshop that focussed on the heart.
Congratulations to Samantha Lau, Year 12, who will travel to Abu Dhabi on an all-expenses paid candidates' weekend in December at New York University Abu Dhabi. She will spend the weekend meeting other prospective students from all around the world, attending social events and mock lectures and seeing whether the university is the right choice for her future studies. Samantha who is SRC president, was assisted in making her application by Dhanya Baby, ex-school captain at MacRob , who completed her undergraduate degree at NYU AD and is now studying post graduate medicine.
Entry to Medicine from 2020

Students commencing Year 12 in 2019 and planning to apply for any of the following university courses listed below, are reminded that registrations for the UCAT (University Clinical Aptitude Test) open in March 2019. In the meantime, students who are preparing for entry into these courses are encouraged to familiarise themselves with the practice tests and preparation material provided at UCAT Preparation
Key Dates for UCAT 2019
Registration & booking opens 1 March 2019
Registration closes 16 May
Final Booking Deadline 17 May 2019
Testing begins 1 July 2019
Last testing date 31 July 2019
Results delivered to universities Early September 2019
Deadline to apply to admissions bodies September 2019

The University of Adelaide - Medicine, Dental Surgery, Oral Health
Curtin University - Medicine
Monash University - Medicine
The University of Newcastle / University of New England - Joint Medical Program
The University of New South Wales - Medicine
The University of Queensland - Medicine (provisional entry), Dental Science
University of Tasmania - Medicine
The University of Western Australia - Medicine (Direct Pathway), Dental Medicine (Direct Pathway)
Western Sydney University - Medicine
The University of Auckland - Medicine
- Medicine, Dental Surgery
Author:
Irene Serpless/Susy Puszka