Clean up Australia Day
Posted on 4 May 2018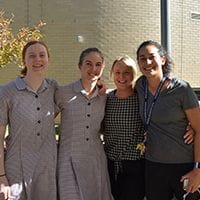 Clean up Australia Day report
On the last Wednesday of Term 1, approximately 60 Mac.Rob and Melbourne High students helped clean up our local suburb of Albert Park as a part of the Clean Up Australia Day initiative run jointly by Mac.Rob's Enviro Committee and MHS's Environmental Action Group. We held on to our yellow and white collection bags and bent down to pick up rubbish as we strolled down Albert Park Road. After a long walk to South Melbourne Beach in the hot sun, we momentarily stopped to enjoy the peaceful scenery of the ocean, then headed back to Mac.Rob via the tram. Participants were thanked with a delicious sausage sizzle for all their hard work at the conclusion of the event.
Whilst of course was this a fun event helping friendships grow between Mac.Rob and Melbourne High School, it also had an important environmental impact on our school's local community. Plastic pollution in our oceans is one of the most current and pressing environmental issues, with over 268,940 tonnes of plastic litter floating in the world's oceans. The majority of this (over 80%) comes from land, often travelling from streets into storm water drains, into our rivers, and from there into our oceans. Though it might seem like a small step, removing over nine full bags of plastic and non-recyclable litter from our streets has the potential to have a big impact on the lives of the animals living in Port Phillip Bay.
We would like to thank our portfolio teacher Ms Rodriguez as well as Ms Dean, Ms Polykova, Ms Jones, Ms Griffin, Mr Page, and Mr Middleton from MHS for the smooth and enjoyable running of the event. Big shout out to Pallas as well for capturing some great photos!
It was so pleasing to see everyone enjoying their day in the sun whilst doing their part to maintain the beauty of our environment.
Ruby Craven (Year 12) and Victoris Mok (Year 12),
Environment Captains