Gifted Outreach Camp
Posted on 12 October 2018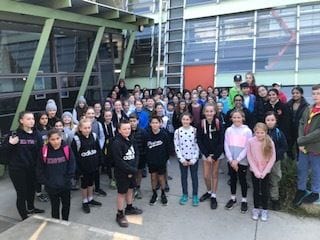 Last term, the Gifted Outreach girls, Mr Wilkins and Ms Pargetter headed to urban camp, the flagship Gifted Outreach event. Our adorable mentees travelled from mainly rural primary schools throughout Victoria and brought amazing youth, enthusiasm and definitely a cuteness overload. For some of us, it was our first time meeting our mentees and we had an amazing time.
We played a few icebreaker games and got to know each other better. We then ran a light-hearted relay race, where our physical prowess was slightly outmatched by that of the impressive primary students. After recovering from our loss, we watched an enthralling science show where we experimented with air and learnt some of the physics behind it. This performance was incredible, equally enjoyed by both the children and adults as we watched balloons and even toilet paper fly across the room!
In the afternoon, after weeks of planning we ran our Gifted Outreach scavenger hunt. The race included: food eating competitions, code breaking, various sporting events, a general knowledge trivia and the crowd favourite 'Guess that Song'. In this activity, our mentees were required to work as a team and achieve the most amount of points they could and create a sculpture judged on its height, creativity and sturdiness. The competition was very fun and the jam packed day was finished on a high. We were all exhausted and running on an excess of lollies and chocolate, so we ended the night with the movie 'The secret life of pets'.
The next day, we visited the Melbourne Zoo where we were fortunate enough to witness some amazing animal shows, such as elephant feeding and the seal show. We learnt more about animal conservation and how to fight for our beloved animals who were in danger of becoming extinct. Sadly, at the end of the day we had to say goodbye to our incredible mentees. It is fair to say that we learnt so many things from our mentees and will greatly miss their youthfulness and humour. It was an experience we will never forget!