GIV Report
Posted on 4 May 2018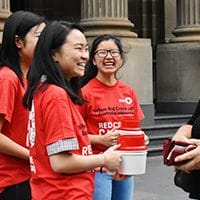 It may only have been the first term but this term has been jam packed with events, with some of our biggest events of the year taking place. Here's a little recap of the overall event.
Red Cross Calling

On the 16th of March, close to 150 girls gathered around the City to volunteer and raise money for our annual event, Red Cross Calling. This year was successful to say the least, with our school raising $3563. This money will be going towards the homeless, disadvantaged children, and many more in our community that need our help. It was great to see our community volunteering for such a valuable cause. This year's Red Cross Calling was made even more special with a special segment aired on ABC-BTN featuring our students - which can be viewed on iView! We'd like to thank all the students that participated on the day, as well as Mrs Dean for organising the day alongside us.
Good Friday Appeal
On Friday 30th of March, a total of 137 students and 35 drivers arrived early in the morning to prepare for our annual fundraising event - the Royal Children's Hospital Good Friday Appeal. Combined with Suzanne Cory High School, we managed to raise a total of $23,023, with Mac.Rob raising $14,281 of the total. This an increase of over $2000 from 2017! This huge accomplishment couldn't have been done without the enthusiasm and passion of our students who were willing to participate on their first day of holidays! We would like to give a massive shoutout to everyone who helped and a special thanks to Ms Puszka for volunteering to be a team driver, Mrs Dean and Sunil from Pied Pipers for their assistance with organising the event. Without them, an event of this scale wouldn't have run as successfully.
Finally, we'd like to give a special shout out to our two GIV execs - Chehak Kaur and Senalee Yapa for always being so enthusiastic, sweet and dedicated to the role. Most importantly for always putting their hand up to help us and everyone ensure the events run as smoothly as possible. Thank you so much!
Alongside these two events, we've also sent students out to Melanoma March and introduced a new program to the middle school students: the Student2student Reading Program. Students will be paired up with younger students who will benefit from literacy help by spending 20 minutes, 2 to 3 times a week.
We strongly encourage every single student to participate in these amazing events but if you missed out on a few, don't worry. Term Two is going to be another crazy one so keep a look out for your emails. Here's a short timeline of our upcoming events and we hope to see all the new faces on the day:
Mother's Day Classic
Move in May
Red Shield Appeal
MS Fun Run + Walk
(A new initiative proposed by our execs for the Middle School)
GIV Leaders,
Keerthana Dharma, Khanh Le, Khue Le and Samantha Yee