International World Brain Bee Championships
Posted on 2 August 2018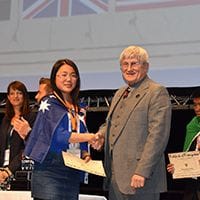 On July 5-9, I competed as the Australian representative in the 2018 International World Brain Bee Championships.
Day one: neurohistology and anatomy exams at the Charité University Hospital. Neurohistology had 10 stations - each where you adjust the microscope yourself, hope to discern the image, and scribble answers as you rush on - all in 30 seconds. A classroom for dissections accommodated for the anatomy exam. We analysed real human brains (dried with alcohol, preserved in formalin) and answered questions, while the Brain Bee supervisor's 'next!' marked every 45 seconds. Again, the concentration and intensity was crazy.
Day two: written exam and patient diagnosis exam at Berlin City Cube. For patient diagnosis, we had to watch 8 videos of patients describing or demonstrating their symptoms, unveil 3 lab tests, make our diagnosis, and answer a related question. This exam was my favourite section as it simulated a real-life patient consultation.
Day three: In the morning, the dreaded live Q-and-A. Students, seated according to their countries, had 60 seconds to answer on paper slips, questions the presenter read aloud. Before a hundred spectators, we waited as the panel of 4 judges deemed our answer as 'correct' or 'incorrect'. In the afternoon, finally, after an onslaught of five exams in three days, came the award ceremony. No one knew their scores nor rankings. The organisers only pulled aside the top five competitors (Poland, Canada, Iran, Australia, and Grenada) and told us to prepare for on-stage awards. It was only when we walked on stage, in front of hundreds of FENS attendees, that we knew our ranks - I, representing Australia, came fifth.
In Berlin, we explored:
The Charite Medical Museum (the 'fainting centre') that houses over 10,000 diseased human specimens
Reichstag Parliament Building
Olympic Stadium (including Hitler's balcony)
2018 FENS neuroscience forum (special invitation)
Definitely, my best memories in Berlin were the friends I made - fellow national competitors. We cracked brain jokes (bad ones) as we walked to competition venues; we huddled nervously as we awaited the exams; we studied flashcards together at night; we shared hotel rooms and ate meals together, and it really felt like we had known each other for years. Our connection as strong as those in our hippocampus and cerebral cortex after a year of learning neuroscience. For me, IBBC has illuminated a rich, international network of incredible people - from Russia to Romania, Iran to Israel, Hong Kong to South Korea, France to Germany, and UK to Ukraine.
In the end, it was an honour representing Australia in the 2018 IBBC. The Brain Bee has been such an enriching, priceless experience. I am incredibly grateful for the consistent support from my friends and teachers - you were part of this journey as well.
Yu Ling (Elaine) Cheung (11F)