Mac.Rob Chamber Strings at Melba Hall
Posted on 12 September 2018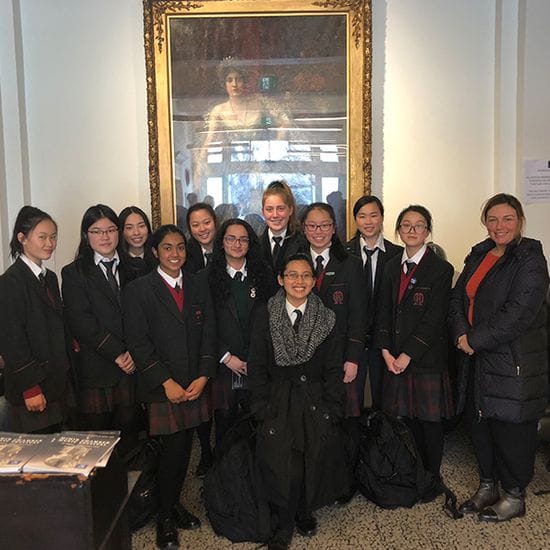 On the 28th of August, the Mac.Rob Chamber Strings was fortunate to visit the Melba Hall, University of Melbourne to watch chamber music performances as well as attending specialised string masterclasses held by visiting world-renowned teachers and students of Melbourne University.
We sat in the balcony and watched several quartets perform a wide variety of pieces. The performers were all of a very high professional standard, and played extremely well. One of the pieces was especially memorable as I thought that it didn't explicitly sound like music. Through incredibly refined pizzicato techniques, the quartet students were able to imitate sounds of nature and percussion. The atmosphere made it easy to immerse ourselves within the environment that the students created through exquisite execution.
We then split into our respective string families and attended masterclass workshops that the teachers taught. As a cellist, I was at the cello workshop held by Brant Taylor, a member for the Chicago Symphony Orchestra for over 20 years. As each cellist went up to perform their piece, the teacher was able to pinpoint miniscule details and give advice to improve the performances which we thought were already perfect. The advice the teacher gave was more subjective to the individual player, rather than an objective 'change this' or 'change that.' Despite not being the performing students, we still found the guidance to be very insightful. Something I personally had never thought of, but perhaps should have, that the teacher mentioned was that when playing a movement within a suite, they should be performed relative to the other pieces, such as the Allemande in relation to the Courante in the Bach Suites, rather than as separate pieces. I thought that that could be applied to our orchestra's performances of Haydn's London Symphony.
We were very lucky to have this enjoyable excursion. We learned and gained a greater appreciation for the rigorous rehearsal and practice that musicians have to undertake. Hopefully, there will be more opportunities for more students in the music program to attend concerts and masterclasses in the future. Thanks so much to Mr Chua and the string department for organising this and Ms Hatibi who accompanied us on the day.
Christina Ni
Associate Concert Manager and principal cellist of Symphony Orchestra