Music news: Community performances
Posted on 23 August 2018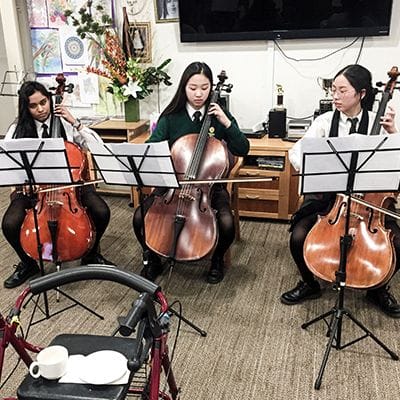 For three Wednesdays of August, many Mac.Rob music students performed at local aged care centres (Central Park, Royal Freemasons and Mercy Place Aged Care) as apart of a new initiative instigated by the 2018 Student Music Committee and organised by Woodwind Leader Rachel Wang. These community performances consisted of 30-45 minute concerts where a variety of music was performed ranging from classical to jazz to pop. Students from all year levels participated and gained valuable performance experience. It is hoped that this community performance program will continue long into the future.
The following are some thoughts from the participants:

Having the opportunity to perform at aged care centres was a very exciting experience. Although we ran in different problems each time, it helped my group consisting of Jasmine, Linda, Annie and Joanne, improve as musicians and to grow closer as friends. I can very easily say that this was an excellent experience!
-Tia 9F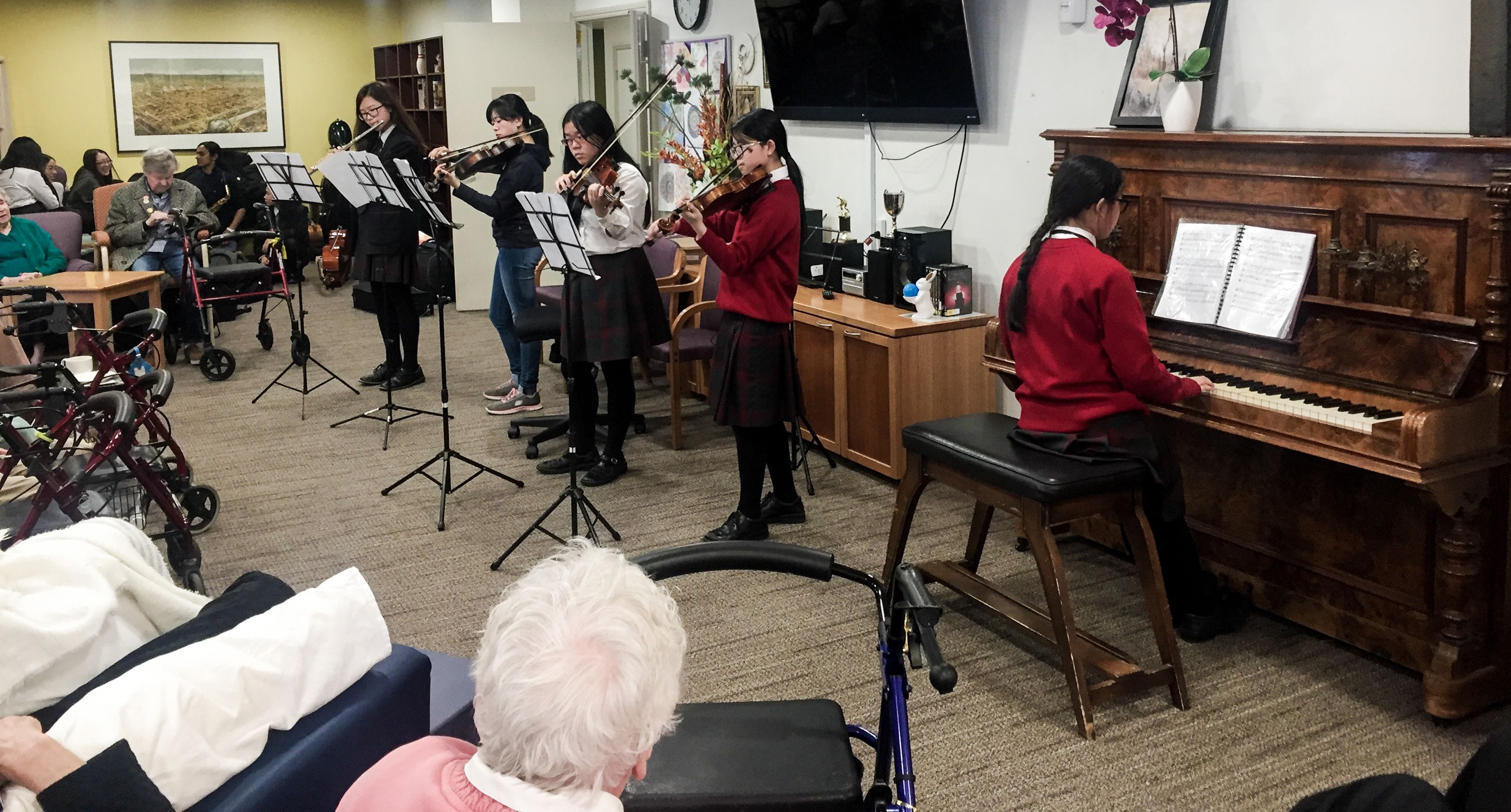 Besides playing two piano solos, I accompanied singer Anna Chan (10J) in the community performance. It was a great opportunity for musical students to perform in front of an audience and also allowed us to listen to other students'
performances, which isn't common as solo performances are rarely played at school. The best reward from the performances is the reaction you get from the audience, the praises you get, and how they smile as they enjoy the music. After the performance, I felt a sense of relief and warmth, knowing I have left an impression on the audience.
- Chloe Lok 10J
The community was a fun and amazing experience that I really enjoyed participating in. I performed as a flute quartet with Isabel Huang, Ying Ying Guo and Marina Zhang. It was really rewarding seeing the smiles on the elderly people's faces and overall was a successful performance. I can say on behalf of the four of us we all felt quite heart-warmed and happy with the reaction we got from the audience. I hope do participate in a similar performance in the future.
- Jessica Wang 11I
I performed with Anusha at different age care centres after school on Wednesday afternoons. We played two duets, Rondo Minuet and Chameleon, on the alto saxophone. Despite the stuff ups, it was rewarding to see the elderly and staff in the audience enjoying the performances of the group. It was nice to see students from different year levels getting along and performing their songs. It was also a rewarding learning curve for all of us and because it is my last year at Macrob, it was nice to take a break from studies and to take part in something that was enjoyable for myself.
- Olivia Ow 12D