Principals' Column
Posted on 4 May 2018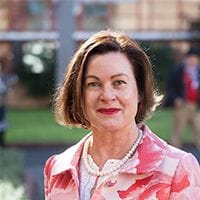 Our community is very excited to see that we appeared in the State Budget papers on May 1st https://www.budget.vic.gov.au/location-schools This is the beginning of expansion planning and I will keep our community up to date with any information as it unfolds. We know select entry schooling works: Mac.Rob's academic performance and the careers of our alumna demonstrates this fact. We also know how important it is to offer students a chance to study with like-minded students regardless of their family's wealth. With the recent government announcements, we know that we can look forward to a larger campus for Mac.Rob so that our educational landscape in Victoria reflects core values of equality and social justice and has gender equity.
The Mac.Robertson Girls' High School and Melbourne High School have the proud honour of their being Victoria's first state high school: The Melbourne Continuation School, which opened in 1905. The school on Spring Street was originally built as the National Model School, when Melbourne was the capital of a fledging colonial outpost. Today, Melbourne High School and The Mac.Robertson Girls' High School are unique in their own settings and very separate schools, yet we share a strong bond in our brother/sister partnership. We have a Memorandum of Understanding that it signed annually by our School Council Presidents and we continually work at possibilities for our schools to interact, such as our French Exchange, Musical, Play, Senior Cup etc. We appreciate Melbourne High School's strident support for gender equity.
I was very proud as Principal to attend the 87th Legacy ANZAC Commemoration Ceremony at the Shrine on Thursday and listen to our School Captain Ms. Rozanna Kelly-Gerryn recite the poem 'In Flanders Fields' and enjoy the combined Year 10 Mac.Rob and Melbourne High School massed choir. This is an historical event for our schools and the students sang beautifully and looked resplendent in their winter uniforms.
Unfortunately, Melbourne High School has needed to withdraw from the Annual Winter concert due to MHS staffing reasons. However, the Winter Concert will go ahead and this year it will be a celebration of over 100 years of music at Mac.Rob with alumna and past teachers returning to perform alongside current students. Our music students are busy preparing for this significant event in the school calendar. It will be held at Hamer Hall on Monday 30th July and it is compulsory for all of our Middle School students who will be involved in a massed choir. Students attending the Music Camp will be busy rehearsing for this wonderful concert. I would love to fill Hamer Hall with our Mac.Rob community, so please save this date in your calendar and support our Macrobbians.
I am looking forward to the upcoming MHS/Mac.Rob joint production of the musical 'Oliver!' If you have not purchased your tickets yet, I encourage you to do so.
Parent/Teacher Interviews
I hope that you find these useful and an opportunity to discuss with your daughter's teachers how learning is progressing and how we can collaboratively work to support student and family. Our teachers are here because and for our students. If the time allocated on these occasions has not been adequate please do not hesitate make contact for further discussion or a longer appointment
Congratulations to
Ms Joanna Patocs and her family on the arrival of their new son, Anton, a brother for Elizabeth. We wish them well at this very special time.
Ms Haleema Shiraz, 11H who has been selected to represent Victoria in the 17 and under Girls Indoor Cricket Age Division. Bravo!
Ms Shabrea Teo, 12D and Ms Kalkhi Jeyaprakash, 12G for their dedication and diligence in the leadership, editing and publishing of the student voice text for professional reading, 'Operosa Fructuosa. Firm in Striving, Fine in Action'. This text is another clear marker that Mac.Rob has a vibrant student voice culture. Well done!
Thank you to
The GIV Leaders, Ms Prasadi Wadanambi Arachige, 11G, Ms Samantha Yee, 11B, Ms Khue Le, 11E, Ms Khanh Le, 11A and all of the students, families and Ms Michele Dean who gave their time and came to Mac.Rob on Good Friday to help raise money for the Royal Children's Hospital.
Our staff who chaperoned the recent highly successful Muggles Literature Tour to the U.K. and Italy, Ms Yvette Arnott, Mr Chris Muir, Ms Marina McAlpine and Ms Tara Quenault.
Thank you to the Parents' Association for the running of the International Ball on Saturday April 28th This was a fantastic community event and an opportunity to celebrate our multicultural diversity.
Yours in learning,
Dr Toni E. Meath