Principals' Column June 28
Posted by Mr Luke A Francis on 28 June 2018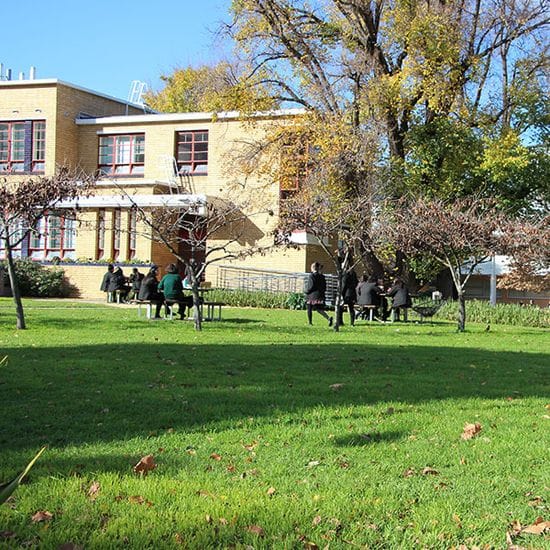 The end of Term 2 is nearly upon us; in true Mac.Rob style, it is a sprint to the finish line rather than a crawl.

Since our last blog entry, we have had a busy time with NAPLAN, the Year 12 Formal, the Combined Theatre Studies play with MHS: Medea, VCE Information Evening, Autumn Concert, 2019 Edutest Entrance Examinations, the Winter Sleepout, and the rolling out of the semester two timetable. Thank you to the many staff who have worked tirelessly to support the students through these events.

We have inducted new members of the alumnae community into the Portrait Gallery, so I congratulate the following for their outstanding achievements in their chosen fields and words of praise for the school and their experiences on the night. My favourite quote from a recipient was that "Mac.Rob was my oasis" a sentiment shared and repeated across many of their stories. The new inductees were:

- Dr Nasya Bahfen - (1991-1994) Journalism
- Debbie Dunwoody - (1976-1979) Education
- Beverley Farmer - (1954-1957) Author
- Dr Barbara Anne Fary OAM - (1955-1956) Education
- Dr Elizabeth Finkel AM PhD - (1970-1973) Science/Journalism
- Dr Nana Liu - Academia (2002-2005)
- Professor Christine McDonald - (1970) Medicine
- Alice Pung - (1997) Lawyer/Author
- Julie Raines OAM - (1967-1970) Music
- Annette Rome FACE FACEL - (1974-1977) Education
- Janet Spooner DGSJ OAM - (1962-1965) Philanthropist
- Dr Susan Stevens - (1974-1975) Education
- Dr Jennifer Tang - (2006-2009) Medicine
- Hon. Pauline Truong - (1988-1991) Entrepreneur/Government
- Dr Karen Viggers - (1979-1982) Veterinarian/Author

The staff have been busily working on reports for the first semester and unpacking the professional readings for 2018: Operosa Fructuosa by our own students and Being 14 by Madonna King. Ms Vani Manokaran was able to organise for Ms King to visit the school and spend some time discussing with the staff the relevance of her work and research to our Mac.Rob context.

The exchange program is in full swing at the moment, with 14 visitors to Mac.Rob from France and Germany. Thank you to the families who have taken in these international students for periods of 6-8 weeks and made them feel so welcome. As a part of the exchange, which is combined with MHS, the students have done sight-seeing in the city and will go on excursions to Sovereign Hill in Ballarat and Healesville Sanctuary.

The Japanese Exchange has seen some excitement with the recent earthquakes in Osaka. All students and staff are safe and well, having been excellently cared for by Mr Sawaki and Ms Griffin.

Preparations for the Winter Concert are well underway, taking place this year at the Melbourne Recital Centre on Tuesday July 31st. This represents an opportunity for us to come together as a school community, performing without MHS, to celebrate all that music has represented across the years within the fabric of Mac.Rob, with us welcoming back former Directors of Instrumental Music such as Jane Elton-Brown, Phillip Green, Ophelia Bryant, and Faye Dumont. Many thanks to Ms Angela Lin for her hours of work above and beyond to coordinate the many facets of the program, and the two music co-captains Anna Bartels and Renee Koh for their tireless work, all under the direction of Mr Sonny Chua.
Congratulations
Oreads on their win of the Athletics Sports Day. This win represents a break in a drought for Oreads in Athletics wins.
Naiads for their win at the House Theatresports Tournament
Nereids for their win at the House Drama competition notably the writers/directors Hannah Bachelard, Sarah Deng and Diya Sengupta. Nereids achieved the highest-ever overall score for House Drama of 97/100. Special mention also to Bethany
Lo-Han of 9I for taking out the coveted Best Actor award.
Leah Evangelides for being presented the Pierre de Coubertin Award for her outstanding work in her many sports as well as balancing her academic studies.
Ms Vani Manokaran on the arrival of her son, Jai. The whole Mac.Rob community wishes her young family well as they commence this new phase of their lives.
In the previous weeks there has been much discussion about the changes we need to see in the broader Australian community to keep our women and children safe. As more and more stories are being told and society is becoming more open in their discussions of the treatment of women, we stand proud as leaders in developing outstanding students who have challenged, do challenge and will continue to challenge the status quo to make the world a better and safer place for all people. As a male leader in the sphere of education, I especially feel the impetus to speak out against those smaller things we sometimes let slide in our language and in our actions that can contribute to the bigger problem. I encourage our male community members, as holders of gender privilege, to lead the charge towards equality, since we still have such a long way to go. To quote Dr Meath in one of her favourite sayings: "Behaviour unchallenged in behaviour condoned."
With the imminent return of Dr Meath, it has been my privilege to lead the community in her absence. We are so lucky to have such professional staff, outstanding students and the support of a wonderful wider community.
Stay warm over this winter break.

Yours in learning,
Mr Luke A Francis
Acting Principal

Author:
Mr Luke A Francis