UN Conference
Posted on 9 August 2018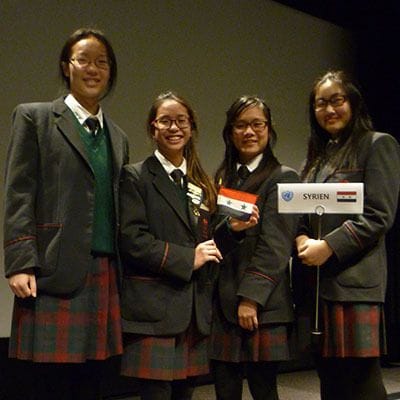 On Friday, 22 of June, we attended the German Model UN Conference as delegates for Syria on the topic of Refugees and Asylum Seekers: A global Humanitarian Crisis.
It was a great day with insightful discussions on human rights and global partnership. Syria emphasises that refugees should be treated with respect and compassion until their return. As a country in violent and complex conflicts, we tried our best to discuss in depth and put forward our interests in German.
In preparation for the event, we invited Dr Fiona Hill from Almanar Consultancy, Victoria State Chair & Board Member of the Australia Arab Chamber of Commerce & Industry (AACCI), to give us her insider's perspective on the situations within Syria. Additional to the cultural and political background of the conflict, we also learned much about the people's real experiences of the conflict without the media's biased reporting. We are very lucky to have her resources and our meeting as part of our preparation.
Throughout the preparation period, we also had the support of our German teacher, Frau Hohmann, who offered a great deal of help with the vocabulary to discuss this difficult topic. She also trained us before the event, making sure that we felt prepared for the debates.
Amy Zhong, Jodie Husman, Qwonjoo Rhee, Joy Guo from 12D