Year 9 and 11 Indonesian Consulate & Restaurant Excursions
Posted by Emma Davies and Emily Nguyen, 9I on 8 June 2018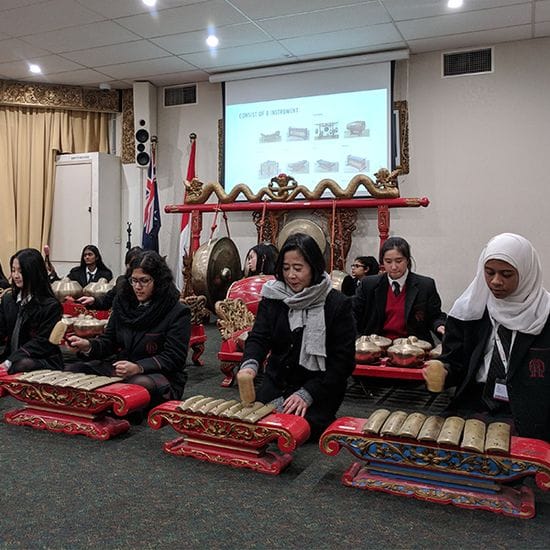 An important aspect of learning a language is to immerse yourself in the culture of the language. It has been nearly a semester since 9I has commenced our venture in trying to grasp onto the Indonesian language, but we'd had yet to encounter anything similar to an authentic experience. Luckily, it wasn't so long until we were presented with an opportunity. On Wednesday 23rd May, the entirety of 9I, Pak Knock and Mori Sensei were fortunate enough to pay a visit to the Indonesian Consulate-General, as well as enjoy some traditional Indonesian food at a nearby restaurant. The previous week, the Year 11 Indonesian classes at both Mac.Rob and Melbourne High School had joined together to participate in these same experiences.
The Consulate was only a short tram ride and walk away and it didn't disappoint. Inside, we were introduced to Bu Risa (Ms. Risa), who gave us some fascinating information about Indonesia and its connections to Australia. She also challenged our skills by asking us to introduce ourselves with our name, age and hobby. Pak Ragil (Mr. Ragil), an professional gamelan musician from Indonesia, then took over, using simple instructions to teach us two songs, which we mastered by the end of our short gamelan class.
From the Consulate, we took a brief walk that lead us to our lunch destination: a small Indonesian Restaurant called Café Batavia. There, we were exposed a typical Indonesian meal, which consisted of delicious dishes such as gado-gado, mi goreng, nasi, ayam goreng, ikan goreng, rendang sapi and krupuk. Finally, with our the new knowledge we learnt and our incredibly full stomach, we concluded our excursion, satisfied.
Berdarmawisata Ke Konsulat Jendral Republik Indonesia dan Restoran Indonesia
Tanggal 16 dan 23 May
Oleh Emma Davies dan Emily Nguyen, Kelas 9I
Pada dua puluh tiga, Mei, kelas 9I, Pak Knock dan Mori Sensei pergi berdarmawisata ke Konsulat Jendral Republik Indonesia (KJRI) dan sebuah restoran Indonesia, Café Batavia.
Kami berjalan kaki ke halte trem nomor dua puluh dua (di Jalan Toorak) dan kami naik trem ke halte trem nomor dua puluh tujuh. Kami berjalan kaki dari halte trem ke KJRI (di Jalan Princes). Kami mau masuk pintu depan tetapi tertutup. Lalu, kami masuk pintu belakang. Ada empat orang di KJRI tetapi kami berkenalan
dengan Bu Risa dan Pak Ragil. Bu Risa berbicara tentang Indonesia dan sedikit tentang gamelan Jawa. Bu Risa bertanya nama, umur dan hobi
kami. Ada banyak orang yang berkata punya hobi menonton televisi dan makan. Sesudah itu, Pak Ragil mengajar kami bermain alat musik, bernama gamelan Jawa. Pak Ragil mengajar kami dua lagu. Ada banyak orang di kelas kami yang lebih suka kedua lagu, tetapi juga ada banyak orang di kelas kami yang suka dua-duanya. Bermain lagu pertama sulit tetapi yang kedua lebih mudah. Semua orang suka bermain alat musik di KJRI. Lalu, Bu Risa memberi kami gelang kunci sebagai hadiah kecil. Bu Risa dan Pak Ragil baik hati sekali.Sesudah itu, kami berjalan kaki dari KJRI ke restoran Indonesia. Restoran tidak jauh dari KJRI. Di restoran kami membayar enam belas dollar untuk makanan. Aduh, terlalu banyak makanan! Kami makan gado-gado, mi goreng, nasi, ayam goreng, ikan goreng, rendang sapi, krupuk dan kami minum air. Semua orang berbicara tentang makanan yang enak. Kami lebih suka mi goreng. Sesudah makan siang semua orang naik trem dari restoran pulang ke rumah.
Author:
Emma Davies and Emily Nguyen, 9I