Youth Grantmakers Forum
Posted on 4 May 2018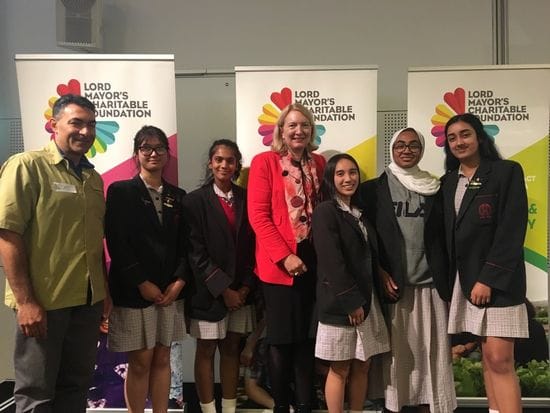 On Monday 26th March, a mixed group of Year 10s and 11s, Hannah Senior, Christine Tran, Hiruni Sithara Wijeyes, Nuha Seyed, Vi Huynh and Chitra Malik, in the Youth in Philanthropy (YiP) committee attended the Youth Grantmakers Forum, held by the Lord Mayor's Charitable Foundation (LMCF) at the Melbourne Convention and Exhibition Centre. The event started with a moving message from the Chief Executive Officer Ms Catherine Brown, introducing us to the LMCF's establishment over 90 years ago.
To give the audience a small insight into the kind of work LMCF joins hands with, the L2R Next Gen charity group showcased some of their talents. The L2R Next Gen is an Australian not-for profit charity promoting unity in the West of Melbourne. They offer free dancing workshops in the hope of giving opportunities and pathways into the workforce to disadvantaged youths. They heavily emphasised that "everybody could speak the same dance". They emphasise the need to break down barriers between language, ethnicity, religion, sexuality, age and gender and therefore advocate diversity. After presenting their dances, they further inspired us by physically involving us. We followed with some basic dance moves, having a taste of what their work does for the community.
Afterwards, Hannah Coleman presented her own philanthropic organisation to us, Scarf Community. Scarf Community provides opportunities for young people facing barriers that prevent them from getting industry jobs to receive training in the hospitality field through connecting trainees with volunteer mentors, who are keen to share their knowledge and networks with the trainees. Not only do the mentees receive training, but they also are part of a network of people where they are able to build their language skills and connect with people from a range of different backgrounds. This really had a huge impact on us because what Scarf stood for in a way mirrored what we at Mac.Rob believe; an equal opportunity for everybody no matter their circumstances.
Throughout the Youth Grantmakers Forum, Alec Weber introduced the students to 'Slido'; an online interactive activity that allows live Q&A's and polls to be used throughout the event. He first tested this with simple questions, such as "how was the weather today", or "what year level" we were in. After a few test trials, Alec asked more serious questions that related closely to YiP, such as asking us about statistically based questions, testing our knowledge of Melbourne in the four impact areas. The Q&A section allowed students, teachers and supervisors to ask questions about anything in the forum.
The impact area that YiP has decided to focus on in 2018 is 'Education & Employment'. Going to school with such an academic focus, the committee believed this area will be the most relatable and engaging. In the following weeks, the YiP committee aims to select 3 charities who will receive grants of a total $10,000. Adding onto this figure, the LMCF will match any money fundraised by the school (up to a $2,500 cap limit). This means that Mac.Rob's YiP committee has the potential to grant $15,000 in total, across 3 different charities.
We are grateful for the Social Service Captains Khushi Patil and Krystal Ha for selecting us to participate in this amazing opportunity, alongside with having Mr Garry Tanner and Ms Mori guiding us throughout our journey as grantmakers. We would also like to thank Mr Giuffrida for coming along with us and assisting us with helpful ideas on the table!
L to R: Mr Giuffrida, Christine Tran, Hiruni Wijeyesekera, Ms Catherine Brown, Vi Huynh, Nuha Seyed and Chitra Malik